This post contains affiliate links.
Kitchen sinks are one of the most used fixtures in a kitchen. There is a wide variety to choose from, but knowing what you want before buying can save you time and money. There are many types of sinks categorized by these four categories:
Installation type,
Kitchen sink materials,
number of bowls
Application
In this article, we'll dive a little deeper within these categories so you can find one that is right for your kitchen.
Types of Kitchen Sinks by Installation
When buying a kitchen sink ,your first decision will most likely have to do with the installation type. Whether you're renovating your kitchen or building a new home, your new sink has to be compatible with the countertop you're installing it on. This is why it's so important to know which one to get. The vast majority of the sinks will fit within these buckets.
Undermount Kitchen SInks
An undermount kitchen sink is a type of sink that is designed to be installed under the countertop. It is mounted underneath and secured by "undermount clips". As a result, once it's installed all you see is the inside part of the sink bowl while the outside lip is hidden.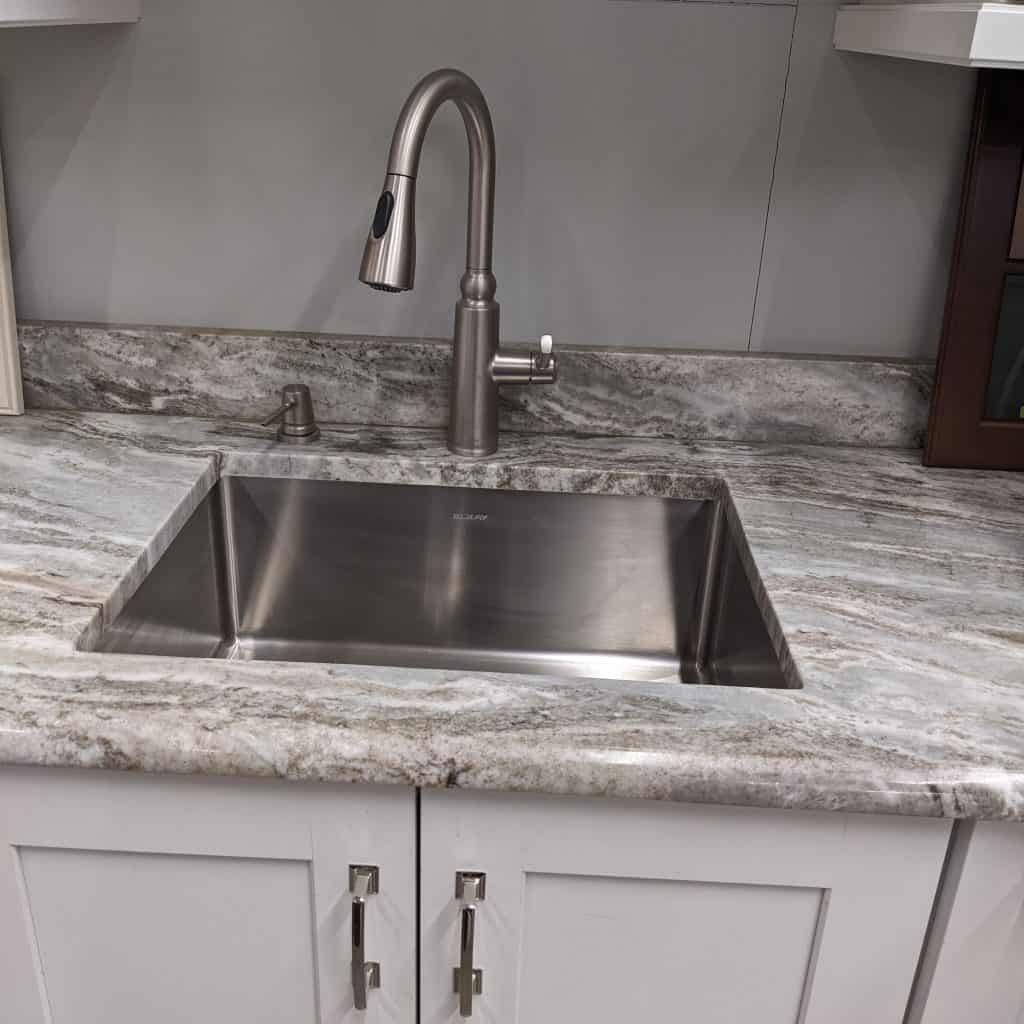 The idea is that you have a seamless transition from the countertop to you sink . It's not only there for aesthetics but it makes the sink area easier to clean and keep clean.
The major downside to the undermount sink is that the holes have to be drilled on the countertop and can't be undone unless you replace the countertop. This drawback can be mitigated by selecting your faucet at the beginning of the project and confirming your decision with your installer and fabricator.
Otherwise the undermount sink is by far the preferred kitchen sink when installing or renovating a new kitchen. This seamless look is not only visually appealing but it's also functional and on trend.
Drop-In Kitchen Sinks
A drop-in sink is the opposite of an undermount. It's a type of kitchen sink that has an outside rim that sits on top of your countertop . This rim is usually pre-drilled with a designated amount of holes meant to be compatible with a kitchen faucet of the same configuration. Drop in sinks are also referred to as "Self Rimming Sinks"
The drop in sink is easy to replace, as it requires no changes to the countertop. If you decide to go from a 3 hole faucet to a single hole 5 years from now, all you have to do is buy a kitchen sink of the same size drilled with a single hole instead of 3 holes.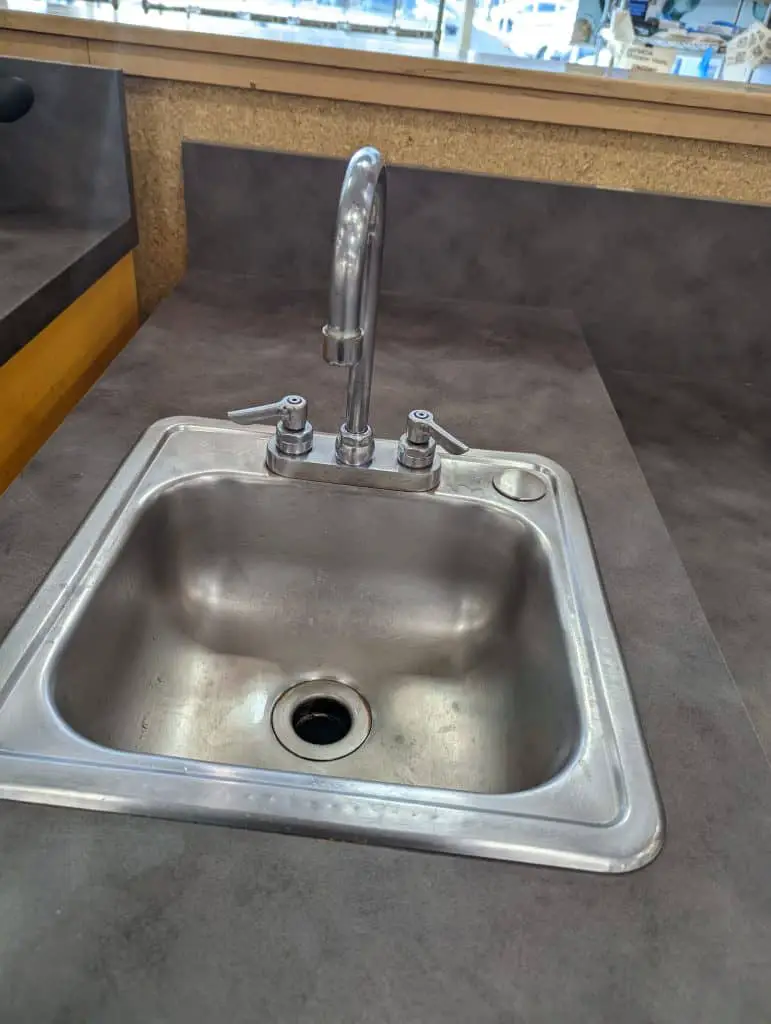 The main disadvantage of the drop in sink is that it's not as aesthetically pleasing to look at. You will have a jarring piece of stainless (or other kitchen sink materials) on your counter. Additionally, it's harder to keep clean since there are seams in a prominent place in your kitchen The stainless steel material will easily overpower your countertop area. This is why self rimming sinks get installed in more affordable kitchen with cheaper countertops.
Dual Mount Kitchen Sinks
A dual mount sink is a type of sink that is designed to be either and undermount or drop-in depending on how you want to install it. they serve no advantage to the end consumer as they will have to make a decision regardless.
However, they can save manufacturers and wholesalers extra cost in their inventories since they only have to stock 1 sku that can be sold for multiple applications.
Apron Front Kitchen Sinks
An apron front sink is a type of kitchen sink that has an exposed skirt in the front. It offers a departure from most kitchen sinks that tend to be hidden inside a cabinet. It is sometimes called a farmhouse sink because the apron is a throwback to the 18th century farmhouse style kitchens.
An apron front sink has to fit into a specially made cabinet that can accomodate its unique design and size. Your cabinet maker will ask for the specifciations of the sink beforehand. Once the cabinet has been manufactured, you will not be allowed to switch to a different sink.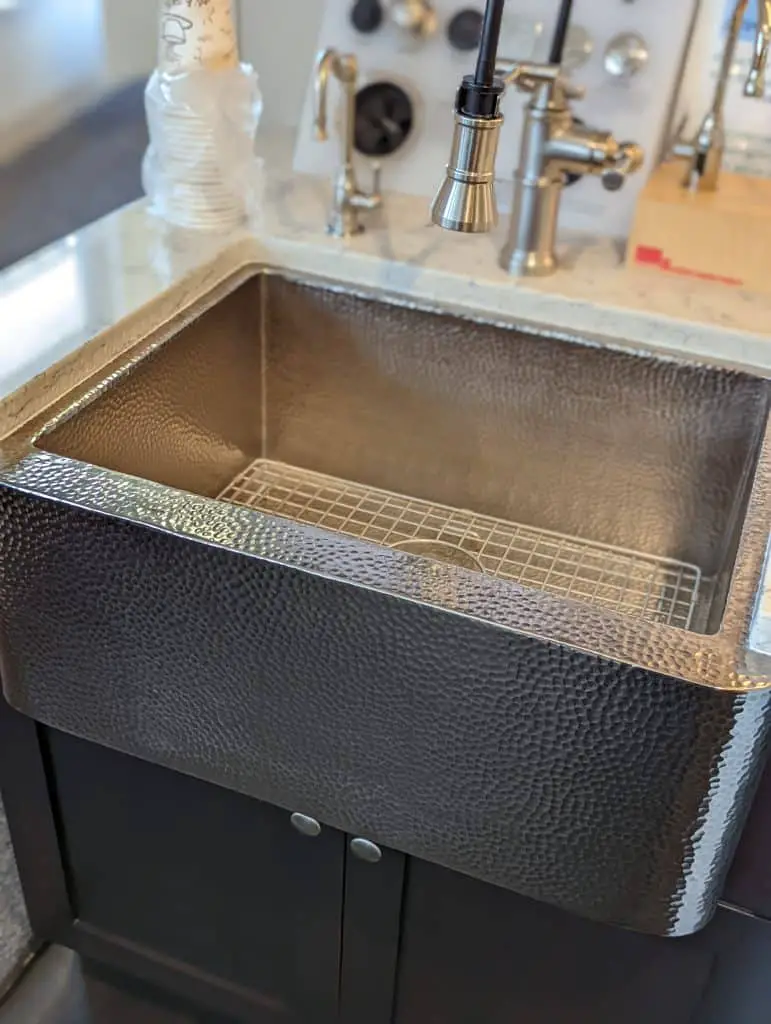 A major downside to apron front sink is that the front apron will be exposed to a lot of damage, chipping, and wear and tear. It's important to chose a material that is both durable and still shows a lot of character with wear and tear.
Types of Kitchen Sinks by Materials
At some point in the selection process, you will have to make a decision about which material to go with. Though most people end up going with a standard stainless steel sinks, there are compelling reasons to consider other materials as well. This simple guide will help you determine which material is ideal for your project.
Stainless Steel Kitchen Sinks
Stainless steel sinks are by far the most popular types of kitchen sinks for good reason. Unlike other materials, stainless steel is practically indestructible. It can withstand anything from acidic substances to extreme temperatures without any scratches or cracking. Stainless steel also looks good with a wide variety of colors and designs, so it's the best choice for those who are looking to maintain a sleek modern look in their kitchen space.
Additionally, stainless steel sinks are available in a wide variety of applications. You will have plenty to chose from whether or not you're going with an undermount, drop in or even apron front. They also have the most options available single, double and even triple sinks.
Cast Iron Sinks
Cast iron sinks are typically made from solid cast iron and have a porcelain enamel finish. They are very durable, and can withstand heavy wear & tear over the years. To this day, there is a very active market for used cast iron sinks.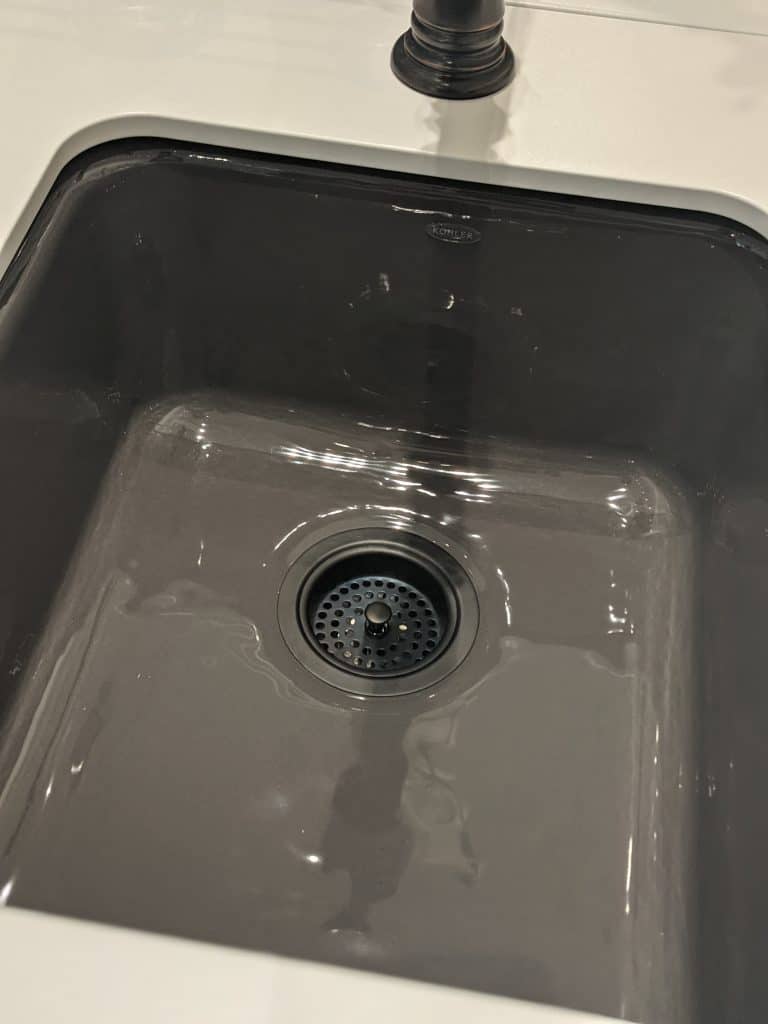 Though most cast iron sinks today are sold as white, other colors are available as a special order. Kohler, the largest manufacturer of cast iron sinks in the US, currently offers the following colors: Biscuit (beige), Black, Thunder Grey (dark grey), Indigo Blue etc..
Cast iron sinks are available in all installation types. There are plenty of options for undermount & drop-in. However, they particular stand out in the Apron Front Farmhouse category. The cast iron is a throwback to the farmhouse era, and it's only fitting that this material is one of the most popular for apron front sinks.
Fireclay Sinks
A fireclay sink is a type of kitchen sink made from clay. A cast of clay is finished and glazed with a ceramic finish. It is then fired at high temperatures to finish the process, and hence its name Fireclay.
They compete directly with cast iron sinks and are considered a higher end type of kitchen sink. Unlike cast iron, there is no additional metal backing. This makes them easier to repair and harder to chip.
They are the go to material for Farmhouse sinks as this style of sink was popularized by the the Shaws Fireclay sinks out of England. In the US, this sink is sold under the Rohl Brand but still carries the Shaws stamping.
While Fireclay sinks are available in undermount & Drop in sinks, they are by far mostly known for their farmhouse apron front style sinks. Although, undermount sinks tend to be more affordable, Farmhouse sinks are without the doubt the most popular type of fireclay sinks.
Composite Quartz Sinks
Quartz sinks are a type of kitchen sink that use a combination of quartz composite and other resins. They are scratch resistant, very durable and come in all types of colors. However, they're not as heat resistant as other higher grade materials
In the US, there are two major manufacturers who offer these types of sinks. They go by different names but they're all more or less the same idea.
The first company and the pioneer of this material is Blanco. Their quartz sink are known as SilGranit. They offer a wide variety of installation types, and colors that seem to mimic kitchen sinks countertops.
Elkay offers many iterations of quartz sinks. Their brands are Quartz Classic, E-Granite, and Quartz Luxe. Elkay offers more vibrant colors to choose from as opposed to the Blanco brand which has less color options.
Copper sinks
Copper sinks have been gaining popularity over the past decade. They are often used as secondary sinks in the kitchen or bar area. They are more of a fashion play as they can be a pain to maintain since true copper sinks tend to patina over time.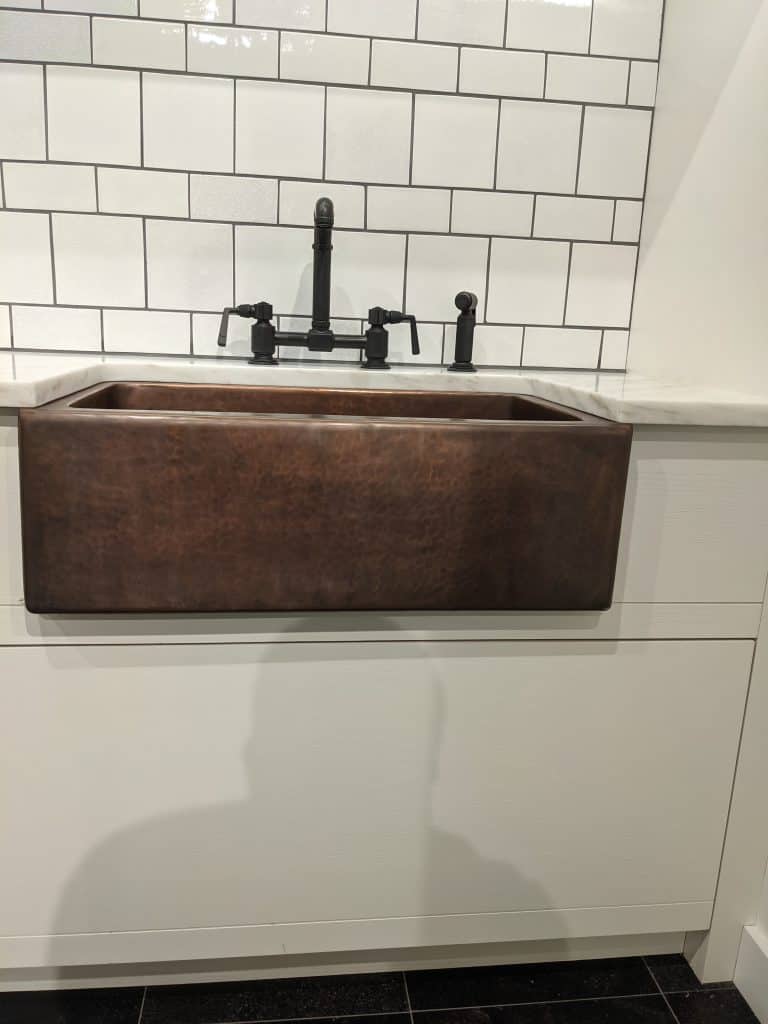 With that being said, there are a number of manufacturers offering apron front style copper sinks. While this sinks might catch your attention in a showroom, they are reserved for a niche market.
Types of Kitchen sinks by Number of Bowls
Kitchen sinks can also be identified by their types. This could be determined either by the number of bowls or the overall size of the bowl. The number of bowl is self explanatory while the bowl sizes are named based on their intended use case.
Single Bowl Kitchen Sinks
Single bowl sinks come equipped with one large compartment and a single drain. They are by far the most common type of sinks since they offer the most space. A 36″ single bowl sink will could fit a couple of large pots or trays.
The major downside to a single bowl sink is that there is no way to separate your dishes in two different buckets. However, most homeowners tend to prefer a larger sink area over a more versatile one.
Double Bowl Kitchen Sinks
A double bowl kitchen sink has two compartments. Each compartment has its own drain and can operate as its own sink. They are ideal for people who like to have two different use cases for each bowl. For example, a bowl to wash dishes, and a separate bowl to soak and rinse.
Due to their size, Double Bowl Kitchen Sinks can only fit inside a cabinet that is 33″ or wider
The major downside with a double bowl sink is that it offers much less space than a single bowl of the same size or even one slightly smaller. If you have two medium size bowls, you have NO large bowls. Since dishwashers have become more prominent over the years, the use case for double bowls has dwindled.
Some double bowls try to have the "best of both worlds" approach, by having one large bowl and a tiny smaller sink on the side for garbage disposals. This is especially common with the Double "D" Bowl sinks.
Three Bowl Sink
Three bowl sinks are a type of kitchen sink with three separate compartments. It is uncommon to find three bowl sinks in a residential kitchen. These sinks are reserved for commercial spaces or restaurants.
If you do find this type of sink in a residential application, the third compartment tend be a tiny bowl typically 8″ wide or smaller.
Types of Sinks by bowl type
Another common category used to describe kitchen sinks are the bowl type. This is different than the number of bowls as it focuses on the shape or design cues of the bowl rather than the sheer number of compartments
D Bowl Kitchen Sinks
The D-bowl sink is a very specific type of kitchen sink. It is designed to work best for small kitchens and laundry areas. Like the name suggests , it is shaped like the letter "D". The curved back allows the sink to take advantage of the full standard 24″ cabinet depth. The trade-off is that a kitchen faucet can't be installed directly in the middle of the sink. The faucet has to be installed on either the left or right side of that arc.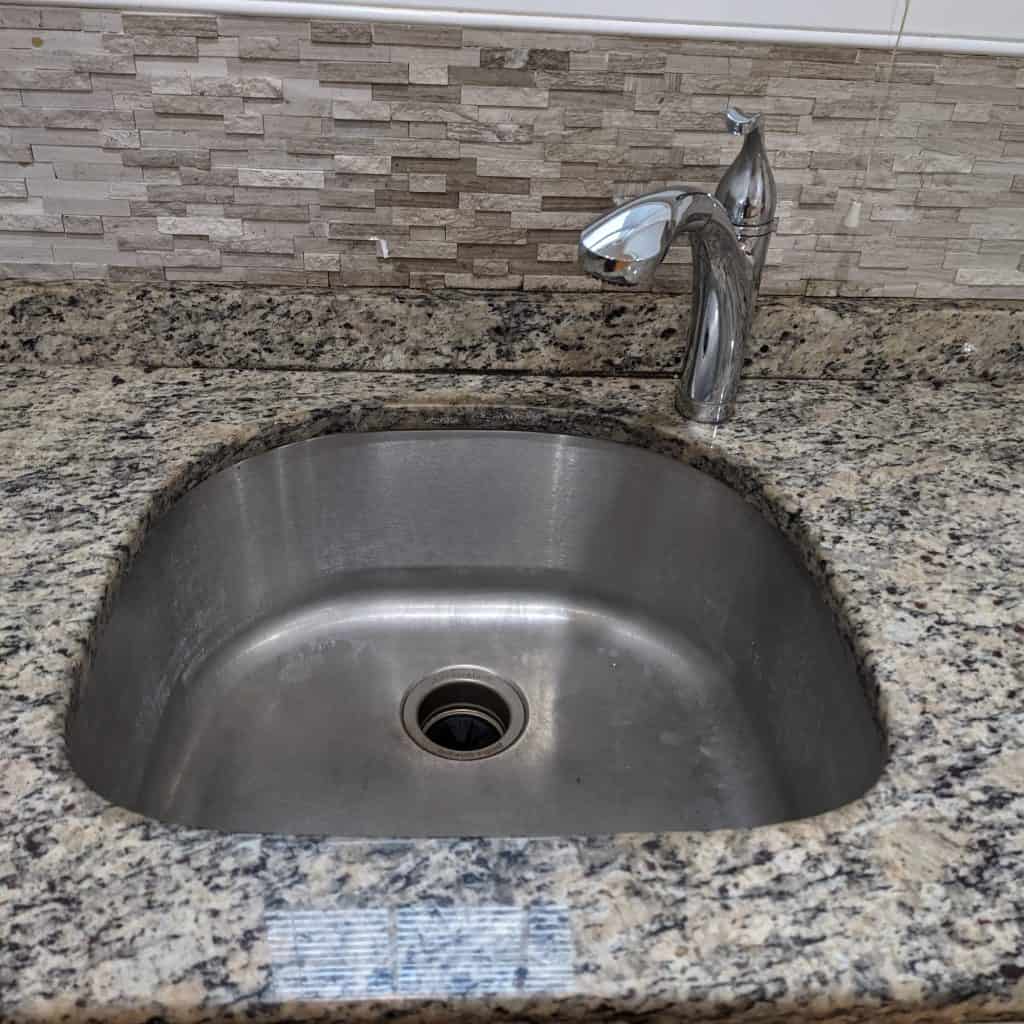 This type of kitchen sink works best for small kitchens that are either lacking counter space or have limited cabinet space to work with. It's designed to fit in a standard 24″ cabinet and It comes in one standard dimension: 21″x18.5″ for the the interior basin. Notice that the 18.5″ depth is about 2″ longer than the vast majority of kitchen sinks. This is due to that extra space afforded by its D Shape.
D Bowls are also available is double & triple bowl sinks. The second & third sinks can either be another D-Bowl Sink or a mini bar sink.
Bar or Prep Sinks
Bar sinks are a smaller version of the standard kitchen sink. While your main sink is used mainly for clean up tasks, the prep sinks are used for niche tasks, like meal preparation, cooler, and rinsing greens.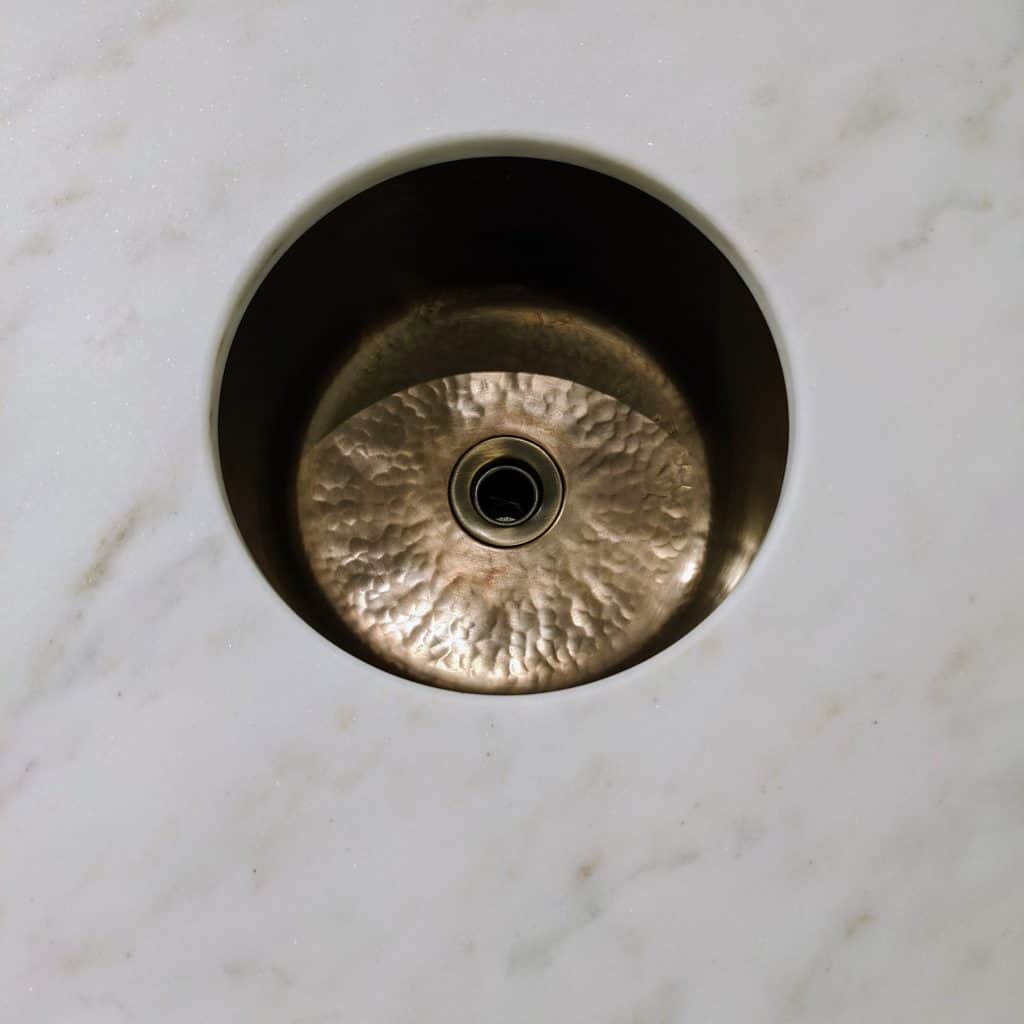 If you're looking to purchase one of these sinks, it's important to keep their size in mind. Most bar sinks are designed to fit in a 21″ cabinet or smaller. They are available in more unique shapes than your standard kitchen like round, square. Additionally, prep sinks are popular with specialty brands like Thompson Traders & Native Trails who focus on copper and nickel materials.
Offset Bowls
A sink with offset bowls is typically a two bowl sink that has a sink that occupies the full depth of the counter, while the second bowl is shallower to allow a faucet to be installed behind it. While most people would prefer a deeper sink, this is not possible because there needs to be some space left behind for the faucet. The offset bowls allow you to have the best of both worlds with one full depth bowl and one shallow depth bowl.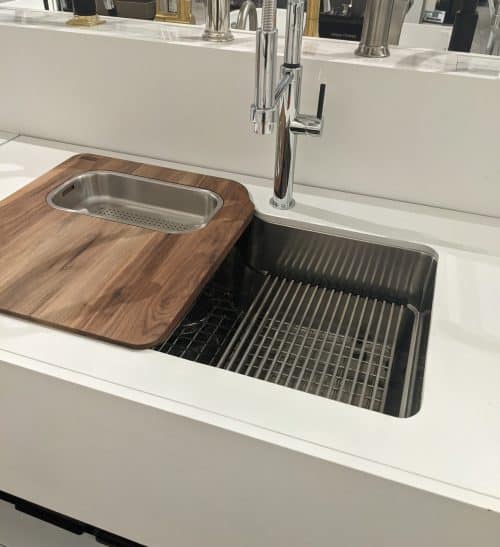 As illustrated above, the offset bowl can also come as a single bowl as well. This is a niche product that has gained popularity over the past decade. The Franke Orca has been a pioneer in that category but there have been a few copycats since.
Most Popular Kitchen Sink Types
What do People actually buy?
It's one thing to have the information on all the kitchen sinks available but it's another to know which ones are on trend. After all, your kitchen is one of the main drivers of your home value, you don't want to install that no one wants. This is why we wanted to give you a taste of what people are currently shopping for, and why.
Stainless Steel Single Bowl Undermount Kitchen Sink
You can't go wrong with this choice. The vast majority of brand new kitchens are equipped with a single bowl undermount stainless sink. The kitchen sink is the most used appliance in your kitchen, and homeowners are looking for something that is easy to use and blends in.
Undermount Sinks get out the way and are easy to keep clean
The Single Bowl allows for a large basin for large pots and pans.
While the major downside of the stainless steel material is that it scratches. Those scratches tend to become uniform after a few months of use.
Fireclay & Cast Iron Apron Front Kitchen Sinks
This has been the trendy pick for a good number of high end kitchen sinks. They are a bit costly but this is for the homeowner who wants that farmhouse look in their kitchen. As long as this particular look is trendy, the apron front sink will continue to fly off the shelves.
Notice that we mentioned both fireclay & cast iron. This is truly a toss up as to which one is the most popular. We believe that the Shaws Fireclay sink is the creme de la creme of this type of sink but the cast iron is especially popular in the US and gives that rustic retro feel that a lot of designers are looking for.
While the trend of apron sinks has spilled over to stainless steel sinks as well, we would not recommend an apron front stainless as it doesn't achieve the look you're looking for and the front apron can easily scratch. Unlike undermount sinks these scratches are visible in a prominent place in your kitchen.
Stainless Steel Undermount Bar Sinks
For bar sinks, stainless steel is the go to material. Most homeowners tend to opt for a smaller version of the same family as their kitchen sink. For example, the Franke "Peak" sinks come in a variety of sizes from 10″ wide up to 36″. Seeing that this type of sink has a distinct design, it only makes sense to opt for the prep sink version in the bar area.
Stainless Steel D Bowl Undermount Sinks
The D bowl sink is the go to sink for kitchens that have limited space. They are all about maximizing this a 24-27″ cabinet area. The vast majority of D Bowl sinks are pretty deep both in term of length & height, which makes up for their lack of width.
If you live in an area with small kitchens, you've probably come across a great number of them. Up here in the northeast, they are a staple in apartment buildings in the heart of the city. Since those apartments are on the smaller side, the size and affordability of the D bowl sinks are a perfect match.
Standard Drop in Sink: Most Affordable
Simply put the standard stainless steel self rimming sinks is a staple for new affordable kitchens. Simply put, it's much cheaper than the alternative and for that reason alone it might be the most popular in terms of units sold.
Frankly, whenever this sink is bought, it's rarely done by the homeowner. It's usually for large affordable residential & commercial projects. The most popular sku of this kind is the 25×22 standard 4 hole drop in sink. This sink can be found online for as little as $70.
Copper Prep Sinks: both undermount & Drop-in
In high end kitchens, prep sinks are where a homeowner tends to opt for something more eccentric. The copper prep sinks is often what they end up going for, since it's on trend and offers something a little more exciting than the boring stainless.
Native Trails, Thompson Traders, & Stone Forest offer a great variety of copper sinks. SInce they are bar sinks, most of their catalog are made of sinks 20″ or smaller.
FixturesAcademy.com is a participant in the Amazon Services LLC Associates Program, an affiliate advertising program designed to provide a means for sites to earn advertising fees by advertising and linking to Amazon.com. We also participate in other affiliate programs which compensate us for referring traffic.