This post contains affiliate links.
There are 4 types of bathtubs: The Drop in tub, The Undermount Tub, the alcove tub and the freestanding tub. These tubs are categorized by installation type. However bathtubs can also be categorized by material, (Cast Iron Tub, Acrylic tub etc..), or by features (Whirlpool tub, Soaking Tubs & Air tubs etc..).
Drop-in Bathtub
A Drop-in Bathtub is a type of bathtub where all 4 sides are enclosed by a separate enclosure. The enclosure could be made of tiles, wood or other materials. With a drop in tub, the lip of the tub or "the rim" is exposed and is visible to the outside.
Fits into an enclosure
Comes primarily in Acrylic & Cast Iron Material
Customizable with tons of add-on options like Whirlpool Jets, inline heater, Bubble Massage etc..
Used primarily as a standalone Bath Spa
Where it's used
The drop in tub is most commonly installed in a Master Bathroom alongside typically next to a walk in shower. On average it is typically larger than the more popular alcove shower as it's truly designed for someone who wants to escape and relax in a soaking bathtub for an extended amount of time.
Features
As such, it comes with the most available options. It is the tub most commonly used for whirlpool jets, air jets etc.. (sometimes dubbed a "Jacuzzi Tub". Other additional features you might find: Inline heater to keep the water warm, a warm surface option, armrest, grab bars … and the list goes on.
Types of Faucets Used
A Deck mounted tub filler is typically the type of faucet used to fill a drop in tub. The faucet tends to be installed on the deck of the enclosure and sometimes on the rim of the tub. A wall mounted tub filler can also be an option especially if there's not enough space for the enclosure.
Undermount Bathtub
The Undermount Bathtub is essentially a drop-in tub without the exposed rim. The rim of the undermount tub sits below the surface of the deck. This in turn makes the counter of the enclosure the star of the show rather than the tub itself.
Used as an alternative to the drop in tub
The deck of the bathtub is hidden underneath a custom fabricated deck
Provides a cleaner look
Easy to clean since there the seam are tucked in beneath the deck.
Where it's used
The undermount tub is ideal for contemporary bathrooms where the objective is to give the bathroom a minimalistic look with clean lines and the illusion of more space. It's also used as an alternative to drop in tubs because it's much easier to keep clean.
Features
The amount of features available to undermounts are the same as drop in tub but it's important to note that there are a lot less undermount tubs out there. Most large brands only offer 1 or 2 series of undermounts. There are more available for Custom bathtub manufacturers which is more of a high end niche market.
Types of Faucets Used
Faucet Options are also deck fillers but without the obstruction of the exposed rim. This in turn might present less hassle for the installers. It's important to note that both custom undermount and drop in tubs offer the ability to have a faucet outlet built within the tub.
Alcove Bathtubs
The alcove bathtub is a type of tub that has an apron on one side. It's designed to be surrounded by walls on the three sides not covered by an apron. Think of an alcove tub as a drop in tub without an enclosure. Instead you get a skirt on the exposed side and tiled walls on the remaining ones.
Designed to fit inside a three wall alcove
Most often used for tub/shower applications
Most popular for kids options
Unlike drop in tubs, they are offered in shorter heights (as low as 14″)
Most common bathtub & also the most affordable type.
Where it's used
The alcove tub is the most common tubs installed in the United States. You'd be hard pressed not to find it in any single home. It is the type of tub that doubles as a shower. In homes with 3 or more bathrooms, it is typically reserved for the kids or guest bathrooms.
Unlike drop in and undermount tubs that only come in soaking tub heights (17." or taller), it is common for an alcove tub to be as low as 14" high. Short tubs are ideal because they allow for easier access in and out of your tub/shower area. Since they are commonly installed in kids baths, the shorter height accommodates kids of all sizes.
Although Shorter tubs are more popular, it is not uncommon to see taller soaking alcove tubs. Just know that the clear downside to a soaking tub is harder access in and out of the tub. A soaking alcove tub is perfect for houses with less bathrooms, where the alcove tub is the only bathtub in the house. At that point, it may serve you well to try to kill 2 birds with one stone.
Features
Alcove tubs may include most of the features found in drop in tubs. Features like, whirlpool jets, air jets, heated surface etc.. are all available. However, the vast majority of homeowners do not add these features to the alcove tub. Once again, because alcove tubs are used in shower areas, they are meant for high volume traffic. It is not an ideal place to have your relaxed hot tub experience.
Types of Faucets Used
Because alcove tubs are most commonly used in shower areas, their faucet is your typical shower trim on your wall accompanied by a tub spout. Unlike your showerhead, the tub spout's flow is not restricted to the typical 2.5 gallons per minute limit.
Freestanding Bathtubs
A freestanding bathtub is a type of tub that has its own enclosure. It can stand on its own in your bathroom. There is no need to build a deck around it, and there is no need to attach it to a wall.
It can serve as a furniture piece in a large bathroom because it stands on its own. It can be made of a variety of materials: Acrylic and Solid Surface are by far the most common but they also come in Copper, Cast Iron, and Stone.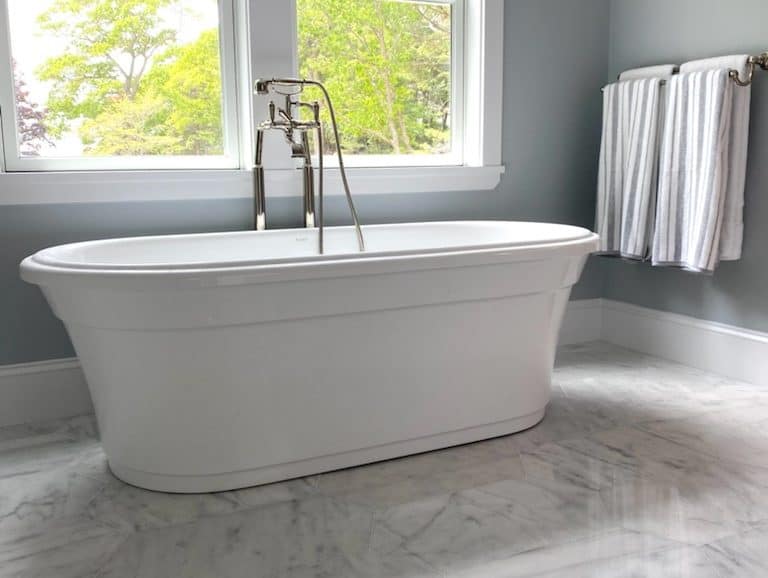 Fully Enclosed Tub that stands on its own in your bathroom
Needs either a freestanding or deck mounted Tub Filler
Great for large Master Baths
Much more expensive in both material & labor costs.
Where it's used
Freestanding tubs are typically installed in Master Baths or larger secondary bathrooms.. Because they are more of a furniture piece, they are ideally placed in a prime location in your bathroom, rather than being stored in the corner of the room.
Features
Out of all the types of tubs, freestanding bathtubs have the least amount of features. Because it stands on its own, every feature and piping above ground has to be housed in the housing of the tub.
The best looking freestanding tubs have thin walls. They have no housing to speak of, therefore they can't hold any additional piping for features such as Whirlpool jets, air jets or even deck mounted tub fillers.
There are some freestanding tubs that offer whirlpool and air jets but they are made of acrylic and have thicker walls. They can look kind of clunky which is not as eye catching as the sleeker looking solid surface tubs. Copper tubs will give you that rustic look but won't have any additional features available.
Faucet options for freestanding tubs are limited to Freestanding tub fillers for the vast majority of them. There are deck mounted tub fillers for some acrylic freestanding tubs. These acrylic tubs need to have a space on the deck specifically cut out for a deck mounted faucet.
Types of Bathtub Materials
In addition to installation types, bathtubs can often be categorized by their materials.  Many professionals prefer a type of materials over the other but it's important to note that some materials may not work weeff5f8ll for certain applications. The following are the types of materials you will find in the marketplace.
Gelcoat Bathtubs A.K.A "Fiberglass Tubs"
Types of installation: Alcove bathtubs, Drop-in,
Types of features: Soaking, Whirlpool jets, Air jets
Gelcoat tubs are a type of tubs that is reinforced by fiberglass. The name gelcoat comes from the type of coating used on the surface. It is essentially a spray coating used on top of fiberglass materials to give the tubs its smooth finished surface.
Gelcoat tubs are most often referred to in the industry as simply "Fiberglass tubs". Although they are not the only material on this list backed by fiberglass, they have taken the ownership of that moniker.
Due to their affordability, Gelcoat tubs are used in rental apartments and large housing projects. Most gelcoat tubs out in the market are alcove tubs but some manufacturers will offer drop in whirlpool options to offer a more competitively priced bathtub with spa-like features.
Acrylic Bathtubs
Acrylic bathtubs are a type of bathtubs that is also backed by fiberglass but the coating for the finish is made of acrylic. The acrylic material is much stronger and more durable than gelcoat. It's also non porous, so it's much harder to stain.
Due to the negative reputation of "Fiberglass Tubs", you will hardly ever hear of an acrylic tub referred to as a Fiberglass tub. That's because it is rightfully a superior product to Gelcoat fiberglass.
Acrylic bathtubs might be the most versatile out of all the material. It is used in a variety of applications: Alcove,Undermoutn, Drop in, Freestanding, These types of bathtubs also come with the most spa options.
As a matter of fact, custom bathtub manufacturers only use Acrylic bathtubs as the base tub. Customers are allowed to add features to the base tub but cannot change the material since the other types of materials are not as versatile. You will find some solid surface as well but they come with less add-ons.
Acrylic bathtubs tend to be taller than other types of tubs. Bathtubs that are 15 inches or shorter are usually made out of cast iron, Americast and other types of proprietary materials.
Cast Iron Bathtubs
Cast Iron tubs are made of a heavy cast iron material and finished with an enameled porcelain material. They are also a non porous material and tend to be heavy and durable. Most professionals would argue that cast iron bathtubs are the most durable types of bathtubs in the market.
They come in a variety of applications: Alcove, Drop in, & even freestanding. However, they are most often used in alcove applications.
There are two reasons why you hardly see drop in and freestanding bathtubs in the market. The first reason is because they are a pain to install. Since they are so heavy, they require a lot of manpower and reinforcement . The second reason is because they tend to be much shorter in height than their acrylic counterpart.
Taller bathtubs are ideal for soaking as it allows the person bathing to be fully submerged in the water. The tallest cast iron bathtub only allows 16" up to the overflow hole, while some acrylic bathtubs reach 19".
Solid Surface Bathtubs
olid Surface bathtubs are bathtubs made of a composite of a stone material & a resin combination. The mixture of these components are held tight to the vest by each manufacturer who offers it. Therefore the quality might differ from one to the other.
Overall, the vast majority of solid surface bathtubs in the US are offered by high end manufacturers: MTI, Hydrosystem, Kohler Victoria & Albert etc..
They are almost exclusively used in Freestanding applications. They are a superior material to acrylic since these types of freestanding tubs have a solid wall compared to the more hollow 2 piece acrylic material. As a result, you get a much more elegant freestanding tub with a more durable feel.
The downside of this solid wall is two-fold. 1). There is not room in the wall to add other desired features like whirlpool jets. 2.) The drain and overflow have to be installed on the outside of the tub. As a result, you have to not only spend a premium on the better material but also on a finished waste & overflow assembly.
There are some solid surface tubs out there that are offered as air tubs but they are very rare and come at a premium. MTI Baths has a few options and they are offered at $5000+.
Enameled Steel Bathtubs AKA "Americast Tubs"
Enameled steel tubs are an alternative to cast iron. They too have an enameled porcelain finish, but instead are backed by a lighter steel material. Ideally there should be a composite material and some sound padding to dampen noise and improve heat retention but that is manufacturer dependent.
Two well known manufacturers with superior products in this category are
American Standard with their Americast Material
Kaldewei bathtubs
American Standard is by far the more popular of the two and you can sometimes see people refer to this type of material as Americast without realizing that there is some competition in the market.
This material is exclusively used on alcove tubs. More specifically shorter alcove bathtubs. Since short acrylic bathtubs are virtually non-existent. There is a need for cast iron alternatives. The Enameled porcelain finished steel tubs are a great alternative that offer much of the durability of the cast iron tubs without the hassle during installation.
Enameled steel tubs are much lighter and therefore more ideal for larger scale projects. They tend to cost much less in labor and offer a superior product to Gelcoat Fiberglass tubs.
American Standard offers a soaking height version of this tub but otherwise it's exclusively used in shorter height applications. In other words, it's not great to bathe in since the user won't be able to be fully submerged in the water.
Other Bathtub Materials
There are a variety of material names out there. Keep in mind that most of these names are proprietary branded materials by large manufacturers that should fall within the aforementioned categories.
For example, Lithocast is Kohler's Solid Surface product, so is "Volcanic Limestone" material by Victoria Albert.
Vikrell is another branded material owned by Kohler used for their sister company Sterling. This material is a type of material that would fall under the fiberglass category but it's not gelcoated. Its surface is non porous which would make it a superior product to Gelcoat but not quite as durable as acrylic.
Types of tubs by Features
Last but not least, a popular way in which bathtubs are categorized is by their feature set. You might have heard these terms before: Soaking Bathtubs, Whirlpool or Jacuzzi Tubs, Air tubs etc.. The simple guide below will explain what they all mean and how they compare to each other.
Soaking Bathtubs
A soaking bathtub is simply a bathtub that is tall enough to soak in. A Short (typically 14-16") alcove tub for example is simply too short to hold enough water for the average adult to bathe in. A soaking bathtub typically comes 18" to 20" high.
Other additional features that may come with your soaking bathtub is a heated surface or an inline heater to retain your ideal temperature when taking a hot bath.
Whirpool Bathtubs
Whirlpool bathtubs are a type of tubs equipped with several massaging jets. These jets shoot water out in a powerful swirling motion ideal for someone looking for a deep tissue like massage. This type of therapy is ideal for someone looking to recover after intensive training and strenuous physical activity.
Whirlpool tubs are sometimes referred to as Jacuzzi tubs. Jacuzzi is simply a brand name known for their manufacturing of whirlpool jets, not unlike Kleenex being synonymous with tissues.
Whirlpool jets are available in alcove, freestanding bathtubs, but are more common in drop in and undermount applications. Since drop-in and undermount tubs are typically not installed in a shower, it gives the user time to relax and experience a spa-like experience away from all the shower traffic.
Air Tubs
Air tubs provide similar hydrotherapy to whirlpool tubs but provide a much gentler experience. It's often referred to as the "bubble massage" and the purpose is to provide a much more wholesome therapy rather than the targeted massage of the whirlpool jets. As a result, it's ideal for the elderly or someone dealing with chronic pain.
Like whirlpool jets, air tubs are offered in a wide variety of applications, but are more commonly available in Drop-in & Undermount installations. As mentioned, throughout the article, these types of tubs are most often made of acrylic.
Total Massage Bathtubs
Total Massage are a combination of Whirlpool & air jets in the same bathtub. These are the ultimate types of hydrotherapy tubs. They cover the whole gamut of bathing experience. If you plan on using the bathtub to enjoy the bathing experience. The total massage tub is the way to go, provided you don't mind paying the premium.
FixturesAcademy.com is a participant in the Amazon Services LLC Associates Program, an affiliate advertising program designed to provide a means for sites to earn advertising fees by advertising and linking to Amazon.com. We also participate in other affiliate programs which compensate us for referring traffic.