If you're not a fan of the disposal wall switch, you may want to consider an air switch instead. An air switch is a small device typically installed on your sink deck that allows you to activate the disposal with the touch of a button.
It's the ideal alternative to the wall switch and comes with some additional persk. In this blog post, we will discuss the benefits of using a disposal air switch and list some of the top brands available on the market today.
What exactly is a garbage disposal air switch?
A garbage disposal air switch is a small device that is installed on your sink deck that allows you to activate the disposal with the touch of a button, rather than using a wall switch. It consists of two parts: The sink top button, and the actuator box installed underneath the sink.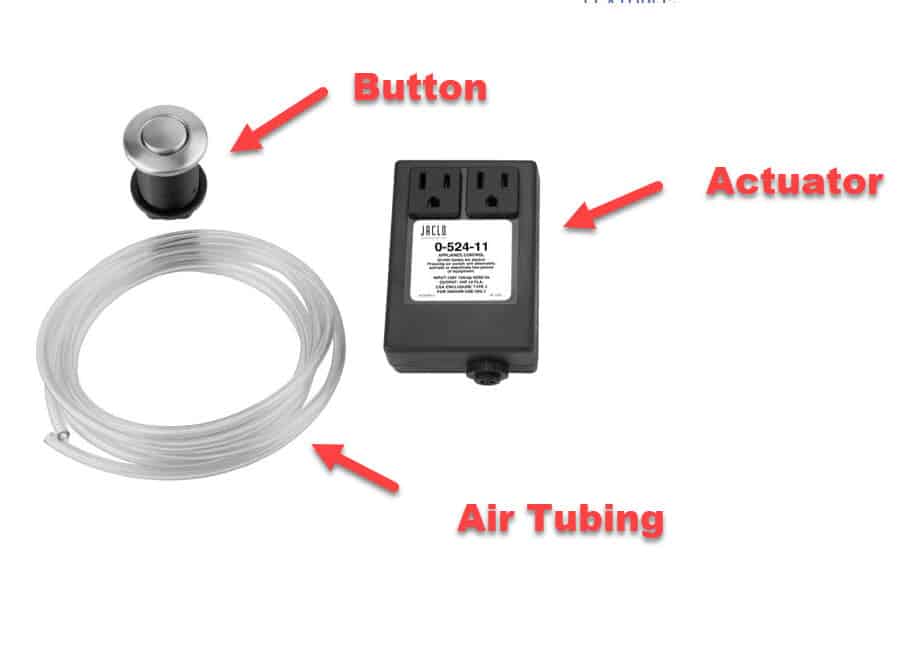 The components come separate for good reason, the button acts as the object that the consumer sees and interacts with. There is no electricity at the point of button interaction. Instead, the button sends a burst of air down to the actuator which in turns kicks on to activate the disposal. This mechanism provides a layer of security as the switch itself doesn't interact with any wet surface (i.e. wet hands, water splashes from sink).
Standard air switches come as a colored plastic button usually in white, polished chrome or brushed nickel. However, there is a decent variety of more decorative options, made of more durable metal and custom finishes.
The Benefits of a Disposal Air Switch
The benefits of a disposal air switch are clear when compared to a wall switch. It is not only convenient and easier to access, but the user is completely safe from any electrical hazard. Additionally, it's much more appealing to the eye.
Convenience and Ease of Use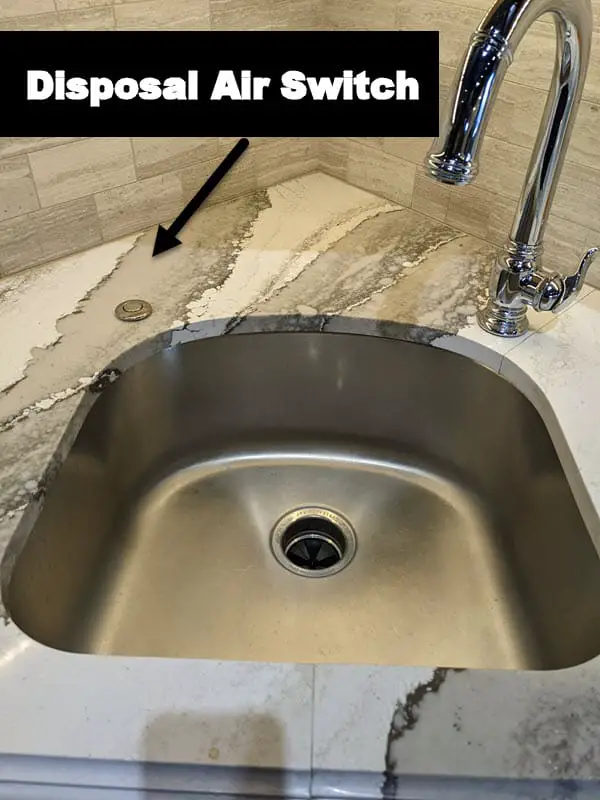 Disposal air switches are installed at the counter right next to your kitchen faucet. This is a more accessible location compared to a wall switch, which is usually installed behind the backsplash or further down on the wall. While this doesn't seem like a big deal, we all know a friction less access means that your household members are more likely to actually use the disposal and not just leave food waste in the sink.
Safety
As air switches don't carry any electrical current, they provide an added layer of safety in the kitchen. With a wall switch, there is a slight chance of electrical shock if the user's hands are wet or if water from the sink splashes onto the switch. With an air switch, that possibility is out of the question.
Aesthetics
Another big selling point for air switches is that they provide a much cleaner look in the kitchen. If you have a wall switch, it's likely that there is an unsightly hole behind your backsplash where cords are poking through. An air switch eliminates this eyesore and is also easier to keep clean as it doesn't get dirty overtime like a standard white switch.
It's needed on Island sinks
In addition to the above benefits, air switches are also a necessity if you have an island sink. This is because air switches can be installed remotely, allowing you to place the button wherever is most convenient on your countertop.
Since there is no wall near the island sink to install a standard switch, an air switch is the only way to go.
Drawbacks
There is no really no major drawback to the sinktop switch other than the additional cost. A standard wall switch should not cost you more than $20. However, an Insinkerator entry level air switch package complete with a standard chrome button will set you back around $60.
More decorative air switches from luxury brands like Rohl and Newport brass can cost as much as $500 for a complete package with a custom finish.
Top Brands
While we're sure that many standard air switches will work just fine, we try to recommend reputable brands that have stood the test of time but who are also accessible should you have any issues down the line.
InSinkErator
Insinkerator is known for their industry leading lineup of disposals, so it's no surprise that their air switch models are some of the most popular on the market.
They offer a wide range of air switches from basic white to more decorative options like polished gold. However it's important to note that they are designed for the entry level market and all their buttons are made of plastic.
Rohl
Rohl is a high-end kitchen and bath faucet manufacturer. They are known for their highly durable kitchen faucets & accessories and their sinktop switch is no different. Not only is the part made of solid brass, it has a strong spring which makes for a satisfying "click" sound when you're using it.
Jaclo
Jaclo is a company that specializes in accessories, but they are also known for the breadth of custom finishes available. They understand the faucet market, and try to match finishes from a wide variety of the most popular brands.
Their products also tend to be much more affordable than the typical custom finish brands.