This post contains affiliate links.
Bathroom faucets are one of the most important parts of a bathroom, but many people don't know how to pick one. Not only do you need to choose the right style and configuration for your sink, but there are also dozens of brands from which to choose. And then there are all those finishes! Which of these features should you focus on first?
We've put together this helpful guide that covers the exact order of the steps you should take to purchase your next faucet. Following this guide in this order will help you avoid the common mistakes that we've seen homeowners make over the years.
Step 1: Choose a bathroom sink faucet with the right hole configuration
When purchasing a bathroom faucet, you should first focus on the hole configuration for it forces you to think about how your rest of room will look. It pushes you to make decision on the vanity regarding its size and type while also requiring that one decide whether or not they need a custom or prefab countertop. Lastly, it requires you to think about the overall space of the room, and whether the faucet should stand out to fill up that space or be as invisible as possible.
You will need to decide between the following configurations
3 Hole Widespread Faucets
Single Hole Faucet
3 Hole Centerset Faucets
Three Hole 8″ Widespread Bathroom Faucets
A 3 hole widespread bathroom faucet ( also known as an 8″ Faucet) is designed to be fitted into a sink that has three holes in the counter top. The far left and right holes are pre-drilled for the hot & cold handle respectively; while the middle hole is designated for the water spout.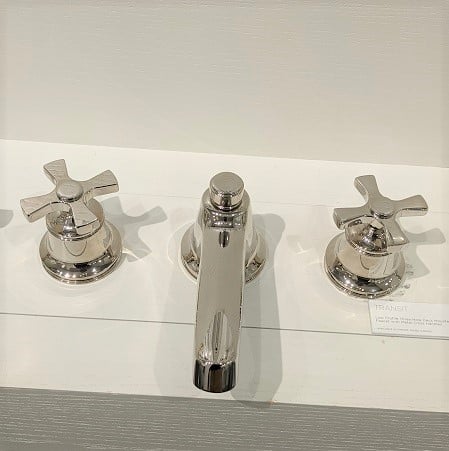 This type of configuration is best suited to use with medium to large vanities (30″ to 72″ & beyond..) because it takes up more real estate than the alternative. However, it can technically go on smaller vanities as small as 24″, as long as you don't mind the faucet being a showpiece of your bathroom design.
Three hole faucets are the most popular faucet types as they can fit in a variety of bathroom styles from traditional to contemporary. This is partly why most manufacturers have a greater number of 3 hole faucets in their catalog.
Single Hole Bathroom Faucets
A Single hole faucet is a type of bathroom hardware that houses the hot and cold valves in one piece. This single-piece design encompasses both hot and cold lines into one single handle often mounted at the top of the faucet.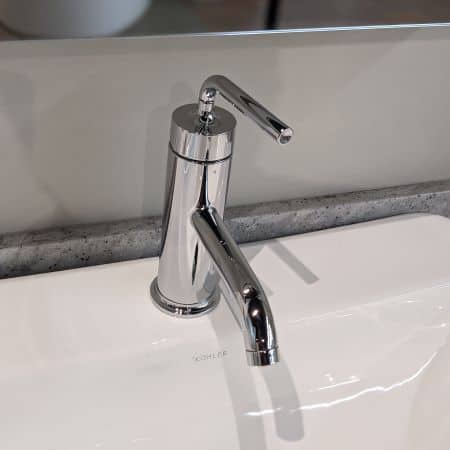 Single-handle faucets are easy to use and less expensive than two or three handle faucets. Additionally, they tend to look a lot more sleek and modern than their multiple hole counterparts
The ideal application for a single hole faucet would be a small to medium bathroom with a a design that leans more on the contemporary side. This is the reason why small vanity tops and wall mounted sinks tend to only come pre-drilled with a single hole.
Three Hole 4″ Centerset Faucets
A 4″ centerset faucet is a type of bathroom faucet that houses the hot and cold valves in one piece. This unibody design comes equipped with a base that typically spans about 6″ wide or wide enough to cover 3 holes set 4″ apart.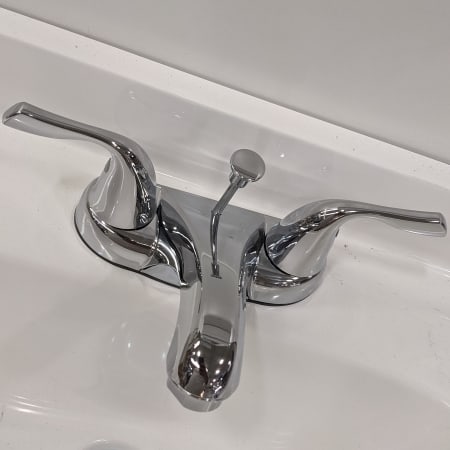 A centerset faucet is typically used where there are limited spacing requirements and a tight budget. It's important to note that a centerset can come with both 2-handle or single handle options.
This type of faucet is typically used in bathrooms with a small budget;
Rental Units
Hotels & Motels
Restaurant Bathrooms
Basement Baths
Homes in a less affluent neighborhood
On the other hand, it's important to note that you should never use a 4″ centerset in the following applications
High End Bathrooms
Vanities larger than 30″
His & Hers Vanities
Making A Decision
Once you know the basics about hole configuration, it should be easy to make a decision and move on to the next step. To keep it simple, most people should probably start by picking a 2 handle widespread faucet. It covers the most applications. You should only think about going with a single hole in your half baths, in bathrooms that tend to have limited spacing, or in bathrooms are super contemporary looking.
Step 2: Pick a design style
For most people, the second step to picking out your faucet should be the design styles. There are three main styles to pick from: traditional, transition & contemporary. Having a preference & knowing which one best fits your overall decor is crucial when you're picking out a bathroom faucet.
Traditional Faucet Styles
A traditional bathroom faucet is one that will likely be in a more ornate style with lots of curves and details. It's best to pick this design if you want something that either matches a traditional decor or is the main attraction of your bathroom space.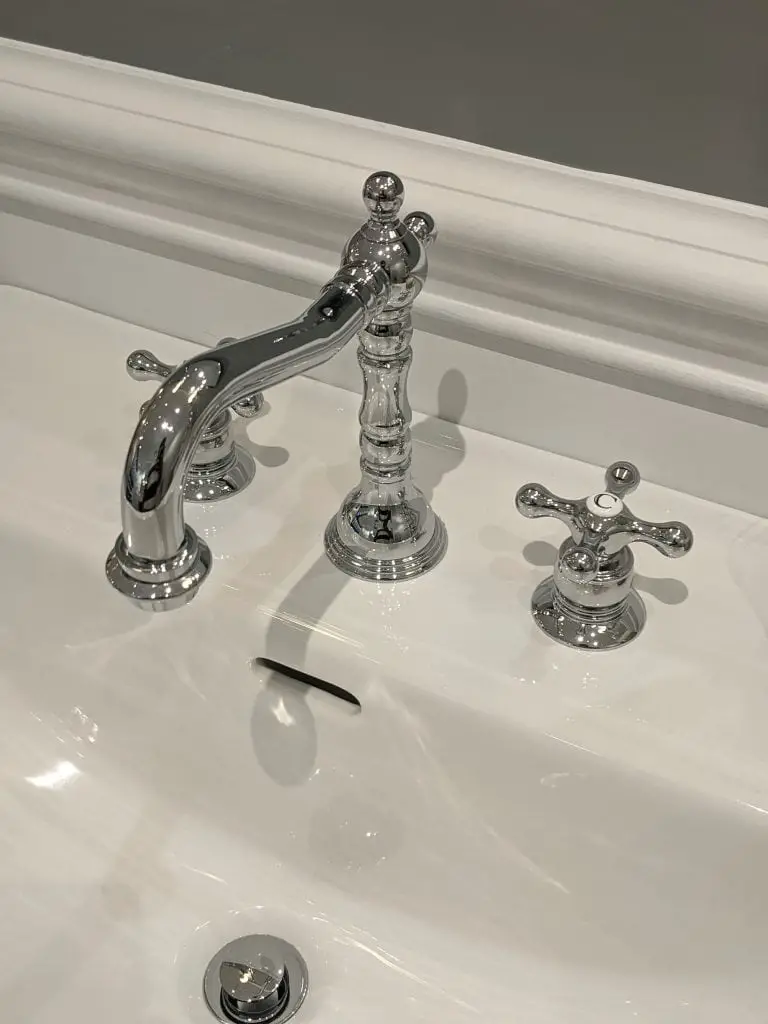 Additionally, these types of faucets belong in larger bathroom spaces, like the master bath or a family bathroom with an oversized vanity. This is because traditional designs are bulkier and have curvaceous details that can be difficult to navigate around if you've got limited space. Widespread faucets are more popular in this category though it's not unusual to find a traditional single hole faucet in a powder bathroom.
Transitional Faucet Styles
A traditional bathroom faucet is one that will likely be in a more ornate style with lots of curves and details. It's best to pick this design if you want something that either matches a traditional decor or is the main attraction of your bathroom space.
Additionally, these types of faucets belong in larger bathroom spaces, like the master bath or a family bathroom with an oversized vanity. This is because traditional designs are bulkier and have curvaceous details that can be difficult to navigate around if you've got limited space. Widespread faucets are more popular in this category though it's not unusual to find a traditional single hole faucet in a powder bathroom.
Contemporary Faucet Styles
Contemporary bathroom faucets tend to have a sleek , minimalistic design with a single handle on the side of the spout. These faucets are often found in smaller, and wall hung vanities that have simple, symmetrical lines and no other details to take up space.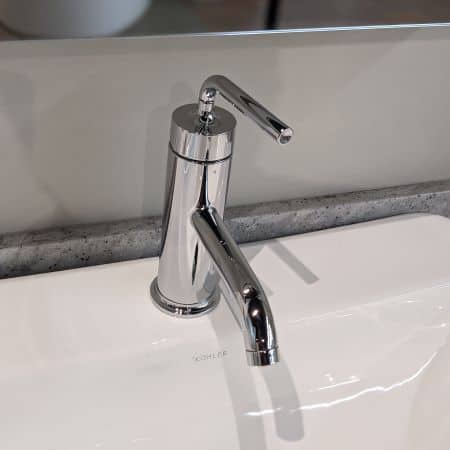 You can easily identify these faucets as the vast majority of these faucets fit in one of three categories: The clean round tubular style, a very square style or a square design with rounded edges.
Making a decision
Choosing a style for your bathroom is more art than science but it should not be that complicated. If you find yourself unsure, going with faucet that match the overall decor of your home and/or bathroom is a safe way to go. Just keep in mind that Faucet Manufacturers, tend to have more widespread options for traditional faucets and more single hole options for contemporary styles. Transitional options are more evenly split between the two.
Step 3: Choose a faucet finish
Picking a finish should be an easy thing to figure out once you understand the options available. To make this simpler to understand, we will categorize the finishes in 4 categories.
Standard Finishes
Premium Finishes
Custom Finishes
Standard Finishes
Standard Finishes are the most popular because they blend in. If you're picking one these two, you simply don't want to make too much of a statement with your faucets. There are only two finishes that belong in this category: Chrome & Brushed Nickel.
Chrome is more affordable & popular. It's available in virtually all faucet collections known to man. It's quite glossy so it attracts a lot of fingerprints. Brushed Nickel is more muted, it's dull silver finish with a slight yellow tint. It lasts longer and is easier to keep clean.
Premium Finishes
Premium Finishes are what manufacturers will include in their premium collections in addition to the standard finishes. They are available in less collections than the standard finishes but are popular enough to be stocked faucet at your local showroom. These finishes follow the overall macro trend of the current decade. Over the years, some finishes will drop and newer ones will emerge. At the moment, most manufacturers consider the following their premium finishes.
Polished Nickel
Bronze (Oil Rubbed Bronze, or Venetian Bronze)
Brushed Brass
Matte Black
Custom Finishes
Custom finishes are only offered by select manufacturers. They are essentially finishes that not readily available with any given faucet but are made to order. Because they're not as popular as the other finishes, manufacturers do not want to invest in the inventory only so they can sit on the shelf for years.
As a result, they carry a much higher price tag than the previously mentioned finishes. Thankfully, they offer the advantage of having a unique look that that won't be found in all the other homes in your neighborhood.
We should note that Custom Finishes are only available for select manufacturers. They typically operate on the higher end of the market. The major downside to these finishes is that they can take 6-8 weeks at best.
Common custom finishes include the following
Natural Finishes that patina over time like: Natural Brass, Copper or Natural Bronze.
Solid Colors: White, Glossy Black
Less popular PVD Finishes: Polished Brass, Brushed Chrome, Rose Gold.
Making A Decision
Picking a finish is one of the most important decision you could make when you're picking a faucet for a new bathroom project. This decision needs to be made at the beginning of the process as it can have an impact on not only the price of the materials, but the labor and length of time of the project. Going for standard finishes will save you a lot of headache as there is almost always a solution if there's a hiccup during a project.
Premium finishes present more of a challenge but this can be alleviated if you purchase your material ahead of time and make sure to not only receive the delivery but double and triple check that your installers have everything in hand.
Custom finishes require a lot of patience from the homeowner because mistakes happen, and one little mistake can delay a project. Things can go astray even if everyone does their part. For example, a damage part might delay the project an extra 4-8 weeks since every part is custom made. Be prepare to make some compromises and even have some placeholders until the items are ready.
Step 4: Pick A Brand for you bathroom faucet
Once you have selected all the above, the next step should be to focus on manufacturing brands who cater to your specific styles and finishes. There are dozens of faucet brands out there but here at Fixtures Academy, we like to stick with reputable brands. To simplify the process for you, we have divided the brands in the following 4 categories.
Large Manufacturers: General Purpose Brands
Large manufacturers are general brands that cover a wide gamut of faucets. They offer collections that cover all types of styles from modern to tradiotional. Their faucets can be found at major retailers and wholesalers, both on & offline. All their collections offer at the very least chrome and brushed nickel finishes and most often a third finish of their chosing.
Large Manufacturers include
Kohler is one of the premier bathroom fixture companies in the world. They make a wide range of products, from toilets to sinks and showerheads. Like most American faucet manufacturers, they have focused primarily on traditional & transitional styles. However they have recently increase the production of more contemporary collections.
American Standard is Kohler's main competitor as they not only make faucets & hardware but also fixtures like toilets, sinks etc. AS & Kohler are the two giants of the plumbing industry but it's safe to say at the moment American Standard is #2 as far as popularity goes.
Delta is a company that focuses primarily on faucet hardware. They have been popular with plumbers over the years. They tend to be slightly more affordable than Kohler.
Moen is a direct competitor to Delta. They only focus on faucets & hardware (not fixtures). They are known to have started the "lifetime warranty" trend that every faucet manufacturer has adopted since.
Premium Luxury Brands
Premium Brands are a step up from the General brands, though some of these collections may overlap. If faucets were cars, the premium brands would be the Lexus' to the large manufacturer's Toyota.
This category includes the following brands.
Brizo – Brizo is the higher end arm of the Delta Faucet company. It offers unique collections curated some of the wolrd's top designers including Jason Wu.
DXV – DXV is the newer one of this group. It's the higher end version of the American Standard Brand. Each of its premium collections is aimed at celebrating different eras of the past 150 years.
Rohl – Unlike the rest of this list, Rohl is not a premium brand of anyone particular larger manufacturer. It's actually the exact opposite. Rohl works designers and artisans throughout the world, and bring their work under one umbrella.
Contemporary Brands
These faucet brands focus on the contemporary market. Most of these brands hail from Europe where bathrooms are much smaller. As a result their faucets tend to be more practical. These brands are the go to brands for single hole faucets. Some like Grohe & Hansgrohe are general purpose while others are premium brands
These brands include
The Hansgrohe company was founded in Germany by Hans Grohe. They are best known for producing high quality shower hardware & have produced faucets to match. Being a European brand, they have a vast selection of single hole faucet to choose from.
Grohe is a company that was founded Hans Grohe's son, Friedrich Grohe. While Hansgrohe focused on showers initially, Grohe made their name by producing high quality faucets & fittings. Today, both brands have diversified and are fierce competitors though they are owned by larger parent companies.
Dornbracht is a premium luxury faucet brand that exclusively focuses on contemporary styles. This is quite unique as most luxury brands tend to focus on the traditional market.
Axor is Hansgrohe 's premium line. Their style are similar to Hansgrohe but have been designed & curated by famous industry designers like french designer Philippe Starck.
Custom Brands
Custom Brands are the manufacturers that have a variety of faucet options at your disposal but the vast majority of their lines are special orders and have a long lead time. The advantage is that you can find a design of your liking and make it your own. Unlike General brands who offer 3 or 4 finishes per collection, these brands typically offer over a dozen of finishes for every single faucet.
This categories include the following reputable Brands
Newport Brass – Newport Brass is a faucet manufacturer out of California with a variety of faucet options. However they are best known for their traditional styles and having over 30 finishes to pick from. The vast majority of these finishes are "special order" custom finishes.
California Faucet – California Faucet is a direct competitor. In fact they were founded in California about a year later. Currently they offer 28 finishes and like Newport Brass are best known for their traditional style faucets.
Jaclo – Jaclo is a company out of New Jersey that offers a variety of faucet options in 26 different finishes. In our industry, they are best known for their accessories and being able to match other manufacturer's finishes. They offer great customer service and typically offer better lead times than Newport Brass & California Faucet.
Boutique Brands
Boutique Brands are brands that exclusively focus on the high-end. Their styles are typically at the cutting edge, or on the forefront of trends. Their best designs typically trickle down to the lower end faucet years later. These brands include
Waterworks is luxury faucet & fixture brand focused on the high end niche. Their calling card is their innovative design, attention to details, and high quality materials. Their bathroom faucets range from $825 to $5200
Watermark is a trendsetter in the bathroom faucet industry. A lot of their designs that would be called risque' a few years ago are making their way in other mass produced brands.
Kallista is part of Kohler, and shares the same parts with them. However, they are in a different bracket from their high-end competitor because it has an even higher price and focuses on setting trends rather than taking cues from higher end brands.
There are quite a few more niche boutique brands out there but their popularity will depend on your location as they tend to be marketed in select markets; namely New York & California.
Step 5: Pick a collection for you faucet type and stick with your decision
Now that you've completed the pre-requisites, it is time to pick a collection. This decision should be fairly easy for Powder Bathroom or Half Bath. However, if you are building a new home or making renovations, make sure that the collection meets all your needs.
Consider your shower hardware when you pick a collection
Most reputable brands sell their faucet as a complete suite with shower faucet hardware and bathroom accessories. When picking a faucet for a new bathroom, it's imperative that you go through the shower hardware faucet to make sure it has all the components that will suit the need of the bathroom in question.
For example, some Kohler collections do not have a matching diverter trim. This means if you're looking to have a showerhead + handheld combo, this collection doesn't have a component to switch between the two, and therefore it won't work for your particular scenario.
In addition, a number of manufacturers have gaps in their collections, meaning that it is possible not to find a matching component or there may be times when the finish choice is limited for that given part.
It is ok to mix and match components from different collections or brands to complete your look but make sure that's taken care of before finalizing your bathroom faucet selection.
Be careful when reaching past your budget
It's fine to reach outside of your budget for individual faucets (ie. Powder bath faucet, or replacing an old one). However, if you're re-doing a whole new bathroom, going past your budget on a faucet will also affect the price of your shower hardware, components & accessories.
If you have to, be sure to find a shower hardware that is more affordable and will also work well with the faucet selected.
Make a decision & stick with it
You will almost always find and issue with either the faucet or the design suite that it belongs to. At the end of the day, there is no perfect collection for every scenario.
Sometimes you may have to reach outside of a particular collection to find what you need. However, obsessing over each and every little detail can be a detriment to completing your bathroom project. Once you make a decision, it's always better to stick with it and make adjustment as needed instead of trying to start over.
FixturesAcademy.com is a participant in the Amazon Services LLC Associates Program, an affiliate advertising program designed to provide a means for sites to earn advertising fees by advertising and linking to Amazon.com. We also participate in other affiliate programs which compensate us for referring traffic.