This post contains affiliate links.
We all know that the best time to add a handheld showerhead to your bathroom is during the construction or remodeling phase. However, it's quite common for homeowners to overlook this essential part of the shower experience. Budget restrictions, lack of foresight, or just being preoccupied with more important matters all contribute to this phenomenon.
Thankfully, there are viable options to do just that. While there have always been accessories to make this happen, manufacturers have recently added more elegant options to their arsenal. Below are 3 ways to add a handheld shower to your existing shower.
Method #1 : Replace your existing Shower with a Shower Arm Mount
The first option is to use a Handshower mount on your existing shower arm. This handheld shower mount attaches to your existing shower arm, where your showerhead used to be mounted. It comes 1 female connection for the shower arm and 1 a male connection at the bottom to connect the handshower hose and a cradle for the handshower to sit in.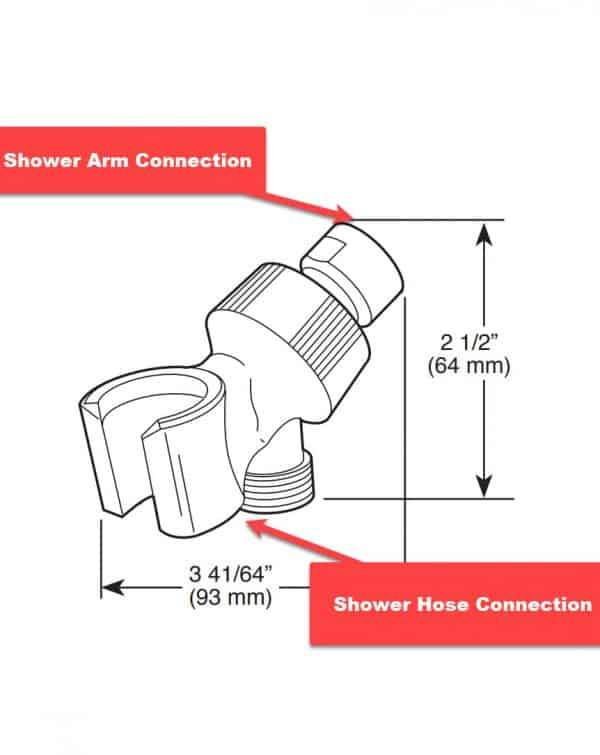 The advantage to this method is that it's straight forward. You will lose your showerhead but you replace with an item that is more versatile. Unlike other options that include a showerhead, it's not as busy looking.
Some of the drawbacks with this option is that it's clunky looking. Your shower hose is at an elevated height which is not an appealing look. This falls in the category of function over fashion.
Buying A Shower Arm Mount
Shower arm mounts are about as generic as you can get. Most manufacturers have one in their catalog and they are almost identical. Below are some brands you should look out for.
Delta – Delta is the king of a accessories. They probably have the largest market share since they acquired Alsons a few years ago. Their shower arm mount is a standard issue shower head. They are available at the big box stores as well as plumbing supply houses.
Jaclo 8015 – The Jaclo 8015 is another basic shower arm mount. However, it's available in a lot more finishes than the competition. So if you're replacing a showerhead with hard to find finish, there is a chance that one of Jaclo's 24 finishes might be a match.
Moen Magnetix – The Moen Magnetix is the new kid on the block . It's a shower arm mount that comes equipped with a magnet. This allows for easy operation of the handheld. It's definitely our favorite of the bunch since we're not a fan of the clunky operation of most shower arm mounts.
Method #2 : Attaching A Shower Arm Diverter
The 2 way diverter is a shower arm mount that contains a connection for both handheld shower & a showerhead. It works very much like the aforementioned shower arm mount with the added benefit of a diverter to switch between the two shower outlets.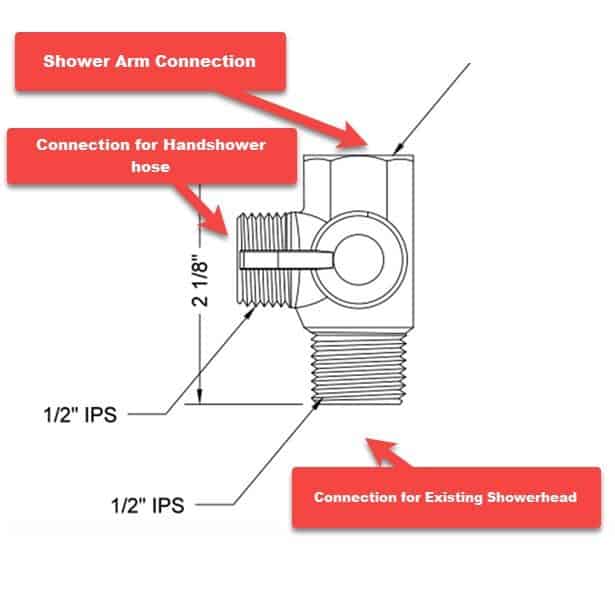 There are two different types of 2 way diverter mounts: one with a built in mount, and one without. If you purchase the one without the mount, you would have to attach your handheld shower elsewhere on the shower wall. The version with the built in mount allows you to have both showerhead types installed on the overhead shower arm. See pictures below.
The obvious advantage of this method is that it allows you to have both a fixed showerhead and a handshower. Most bathrooms have multiple users, and some people might be loyal to a specific showerhead. In our experience, fixed showerheads tend to perform better and have better overall coverage, while handhelds are versatile.
Some of the drawbacks of these accessories is that they require a lot more parts and as a result can cause your shower area to be clumsy looking. This is especially true for the shower diverter with the built in mount. It requires a lot of parts to be installed in a prominent area of your shower. The mount-less version allows you to spread those parts over a larger space which makes it look a tad bit cleaner.
Buying A Shower Arm Diverter
There is a variety of shower arm diverters available. Unlike shower arm mounts, manufacturers have taken the liberty to create products that are a little more unique.
Click the image above or Click Here to purchase on Amazon
Click the image above or Click Here to purchase on Amazon
Click the image above or Click Here to purchase on Amazon
Method #3 : Using a Diverter Shower Arm instead of your existing one.
With this option, you will not be adding a diverter to the shower arm like the method mentioned above; but instead, you would remove your existing shower arm, and replace it with new one that comes equipped with a built in diverter. These shower arms have a diverter at their base, making them look less busy than some of the other options.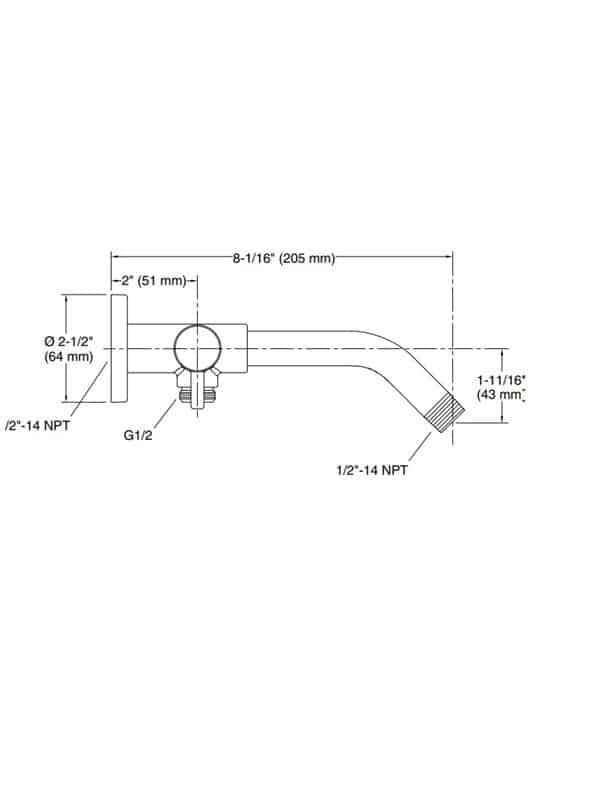 One of the advantages of this type of installation is everything has a more seamless look about it. With the diverter at the base, it has a less clunky design. It's also more durable than the previously mentioned option since it's not an additional part.
Some disadvantages are it does not eliminate the hose hanging down in front of the person taking a shower, and it is not suitable for higher-end bathrooms. As of the time of this writing, only one manufacturer offers this option, making it harder to find specific finishes to match your other plumbing faucets.
Buying a Shower Arm with a Built-in Diverter
As we mentioned, Kohler is the only reputable manufacturer offering this option and it is one of their newer products. You could probably find something similar from some unknown online marketplace but the major players have yet to follow suit. We would not be surprised if most brands come out with something similar within the next few years. As of today Kohler has three versions of these shower arms
Click the image above or Click Here to purchase on Amazon
Click the image above or Click Here to purchase on Amazon
Kohler K-76336 – This is the Goose Neck version. It operates very much like the Rainhead arm but at a raised height, perfect for those who need additional headspace in their shower.
Method # 4 Adding a Shower Column
A shower column is a handshower slidebar that has an additional curved rail to accommodate a shower head as well. The top part of the slidebar is mounted where the shower arm is supposed to be. Unlike a typical slidebar, water travels through this one and is diverted to each outlet by an integrated lever handle.
The added showerhead comes with a curved piece of pipe that adds some height to the fixture. Therefore it's important to make sure that your space can accommodate that additional headspace. As of the time of this writing, Moen & Signature Hardware are the only manufacturers who offer shower columns where the showerhead is mounted at the same height of a typical shower arm.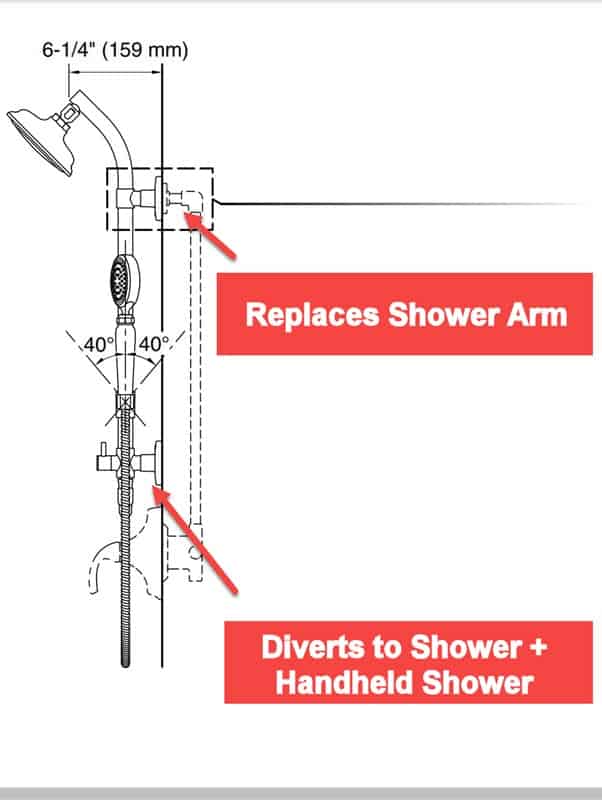 If you have a medium to large shower area and don't mind the added cost, this is by far the best option. Not only it's the best looking but it' also the most durable. It comes as one piece so there are not too many moving parts. Another benefit of the shower column, is that they accommodate larger rain showerheads unlike the other options on our list. As a result, it's a great way to upgrade the look of your shower, without incurring the cost of gutting the area.
Shower Column Options
There are quite a few options for shower columns these days but the three brands that stand our are Kohler, Moen & Grohe.
Grohe Retrofit System – The Grohe Retrofit system is your standard issue shower column. It does the job but offers no unique features that makes it stand out from the pack. Grohe also tends to lean on the contemporary side so there is no version to match your traditional decor.
Kohler Hydrorail – Kohler has popularized this category a few years ago. They offer the most options:
With or without showerheads
Arch Overhead Bar or R Beam style
90 degree Shower arm or 45 degree
Traditional or Contemporary
Additional, the Kohler hydrorail has the easy to use one handed operation of their slidebar.
Moen Annex – While not as sleek looking as the Kohler Hydrorail, Moen probably has the product that makes sense for most people. The Moen Annex has an arm that petrudes out at the same height as the flange outlet. Some bathroom don't have that additional headroom and even if you do, you might prefer the lower profile.
FixturesAcademy.com is a participant in the Amazon Services LLC Associates Program, an affiliate advertising program designed to provide a means for sites to earn advertising fees by advertising and linking to Amazon.com. We also participate in other affiliate programs which compensate us for referring traffic.