The skirted toilet has been gaining popularity over the last decade. Ten years ago, the largest American manufacturers only carried 1 or 2 in their entire catalog. Today, they are rushing to make a skirted version of most of their premium collections.
Skirted toilets are more costly than their non-skirted counterparts, so why are they getting so popular? TO help you understand this recent trend, we will dive deep into what a skirted toilet and go over their advantages and their drawbacks.
What is a Skirted Toilet?
A skirted toilet is essentially a standard toilet that comes equipped with a fully skirted apron as opposed to the exposed trapway of a standard toilet. This skirted apron covers and hides the trapway for a seamless look.
Hides toilet trapway
Seamless Design
Smooth Surface is easy to clean
Typically Comes equipped with slow closing seat in the box
This type of toilet is perfect for any fan of the "Minimalist" look. It's also a great option for people who love cleanliness and don't want to have to bother to dig into every nook & cranny when they're cleaning their bathrooms. While the skirted toilet comes with great functional benefits, it is not without its drawbacks, detractors of the concealed toilet look will often point to its lack of character and inability to be compatible with more traditional style bathrooms. The skirt can also add a substantial bulk to the toilet, which is not ideal for smaller bathrooms.
Pros of a Skirted Toilet
As mentioned above, the pros of the skirted toilets tend to be on the practical side. We've narrowed them down to 3 major pros.
They're easy to clean and keep clean
They are a perfect product for the minimalist design movement
They do an excellent job of hiding the imperfections of standard toilets
Easy to Clean & Keep Clean
The #1 complaint about the exposed trapway is that it's always dirty and difficult to clean. Because of its flat surface, the skirted toilet solves both issues. Homeowners appreciate the fact they don't attract as much filth. When they do, one quick wipe should do the trick.
There are exceptions to this rule, as some of the more traditional looking skirted toilet still come with a base equipped with a lot of details and ridges. The bottom base can get filthy pretty quick but it is still a step up as the more difficult areas to clean are non-existent.
With that said, the skirted traditional toilet is still a lot easier to clean than its non-skirted counterpart. The flat surface alone is a welcome addition.
Minimalist Design: Perfect for the Modern Bathroom
As we have previously mentioned, the skirted toilets are ideal for a modern looking bathrooms. Their clean lines and flat surfaces blend right in with contemporary styles. They fit in but do not attract too much attention.
It's no surprise that their rise in popularity has coincided with the recent trend toward a more minimalist design. As we have come to appreciate the simple style of the 2010′ & 20's, older toilet manufacturers have lacked behind. This has opened the opportunity for foreign manufacturers to gain some market share and somewhat break the duopoly of Kohler & American Standard in the US.
Today, a Japanese company like Toto has quite a huge stronghold on the US Market. Other contemporary manufacturers include Duravit & Icera. Duravit's rise in popularity is especially impressive since their toilet bowls don't conform to the standard US elongated size. This only proves that consumers are yearning more and more for this style while the American brands lag behind.
It hides the eyesores
No Exposed Johnny Bolts
Wall Hung Supplies can technially be hidden behind the aprong

No Toilet Nook Required, Profile View can still be appealing
This might be seem like a redundant point, but whereas we focused on cleanability at first, we're looking at this here from a design perspective.
Face it, the exposed trapway is an eyesore of a newly renovated bathroom. It's something we have come to accept because it has been a staple for bathrooms in the US for years. However if there is some newer innovation that can take care of this century old problem, why not take advantage of it?
In addition to hiding the trapway, the apron of a skirted toilet can potentially add other essentials that make your toilet work properly.
The toilet supply: It's the tubing responsible to fill the toilet tank with water after flushing.
The Johnny Bolts: These are the bolts that keep the toilet secured to your bathroom floor.
In most cases, skirted toilets come equipped with a hidden compartment for Johnny Bolts. Additionally, the newer toilets have a curved opening to give the installers access to the supply directly behind the skirt. Though, this is still a very small space for the installer to work with, it is an option if the homeowner does not want to see the plumbing supply. A great compromise is a decorative supply like the image below.
Again this goes hand in hand with the current "wireless" trend of our society. Just like you don't want to expose the TV wires in your living room, why should you want to expose the "wires" of your toilet if you don't have to.
Cons of a Skirted Toilet
Before you jump and buy your next skirted toilet, you should consider that they too come with some downsides. While they are not deal breakers for most people, there is plenty worth considering from the added bulk of the design, to the added costs either via plumber's price or the price of the toilet itself.
It's harder to install & service
Skirted toilets are a pain to install for most plumbers & contractors. Installers are used to have an open area to work with where they can easily secure the bolts down and connect the water supply. Unfortunately, the fully skirted apron is a hinderance for them as it restricts their working area.
Over the years, manufacturers have made the skirted models a little easier to install by adding an open working area for plumbers to reach in to connect and disconnect the water supply. This is not perfect solution but it's much better than the older models that had no area to service.
Bulky Design
A skirted toilet can have much more bulkier look than its non skirted counterpart. In essence, the skited toilet is the same exact product as its non skirted counterpart. The only difference is an added component. Unfortunately, this added component has to take some real estate in your bathroom.
This added bulk is especially noticeable on toilets that have both a skirted and a non skirted version. In this instance, the manufacturer designs a traditional toilet and later on decides to add the skirted toilet to offer as an upgrade. While this sounds great in theory and it makes sense from a business perspective, it falls short of living up to the hype of a true skirted toilet.
On the other hand, toilets that are designed from scratch as a non skirted toilet, tend to have a much sleeker design. Since the manufacturer has one goal in mind, they tend to use every inch of the material to good use. This is probably why brands like Duravit have been gaining traction in the US. Their focus is 100% skirted toilets. The result is a much more attractive looking collection these products.
It's More Expensive Than Non Skirted Toilets
Overall, the skirted toilets are always more expensive than their non skirted counterparts. They are getting more popular and the prices seem to come down. However, since it's an add-on to an existing toilet, we will probably never see the day where skirted toilets are cheaper.
One example is Toto. One of Toto's most popular toilet line is the Drake II. A white version of these toilets lists for $709 while its skirted version called the Vespin has a list price of $792. That's a 15% premium add-on to your toilet. This is a step in the right direction, as the gap used to be much larger. Since this category is hitting the mainstream, the prices have been coming down.
Another example is the Kohler Cimarron. The two piece non skirted Cimarron is listed at $418 while the skirted version lists for $518. This is an increase of about 24% on the manufacturer's suggested list price.
Our final example is the American Standard Cadet line. The Cadet 3 is listed at $363, while the Cadet Skirted lists for $462. That's a 27% add on to the standard price of the AS Cadet.
There is one exception to this rule & it's the high end Kohler toilets. The Kohler Memoirs one piece list for the same price ($1298) for both the skirted & non skirted version.
The Concealed Trapway Toilet as an Alternative
As we have mentioned throughout this article, the traditional style skirted toilets are gaining popularity. With this popularity, we have highlighted the bulky design of the skirted toilet as a glaring downside. One manufacturer, Kohler, has done something about it and introduced the "concealed trapway" toilet.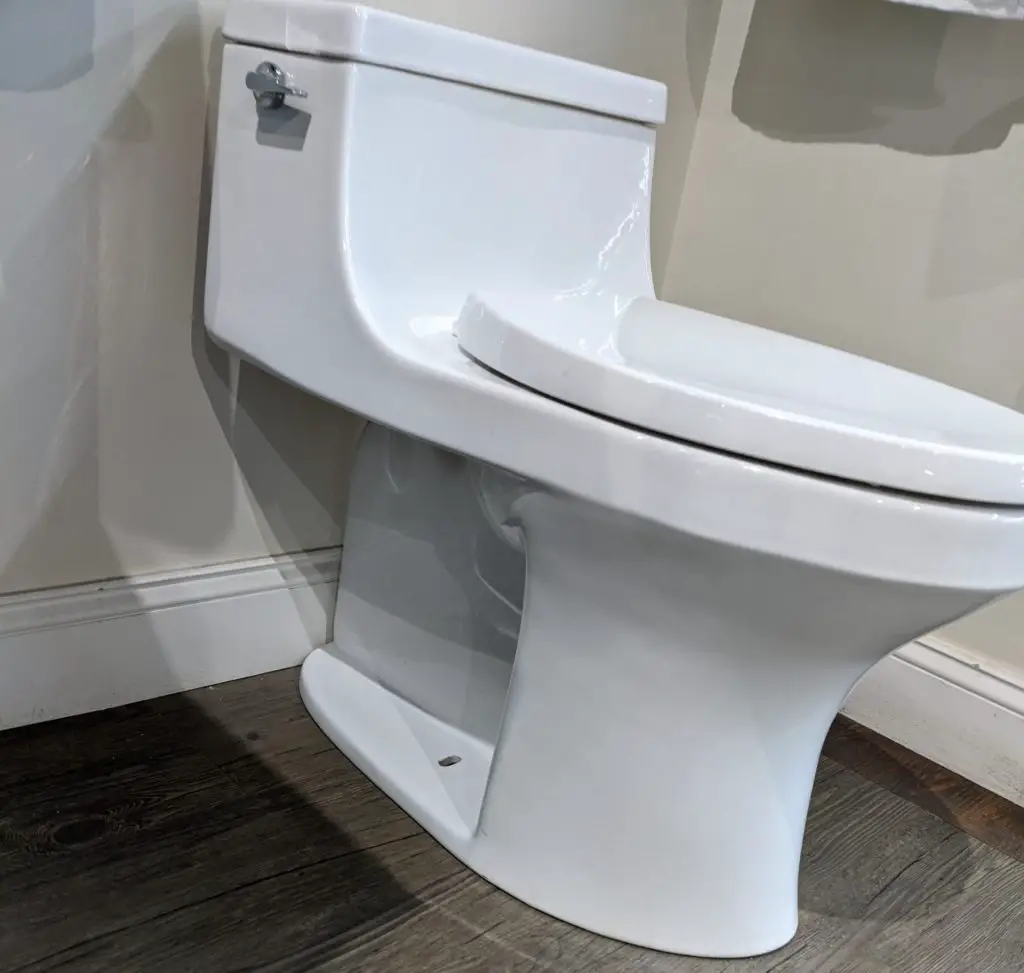 Hides the Trapway
No Extra bulk like a fully skirted toilet
More area for installer to work with.
Not as seamless looking as
As of the time of this writing, there are two concealed trapway toilets on the market : The Kohler Kathryn & the San Souci. While the San Souci is more of a modern design, the Kathryn would fit many types of traditional bathrooms without the downside of the bulky base.
Instead of having a skirt covering the trapway, with a concealed trapway, Kohler built the toilet from the ground up with a hidden trapway. The surface of this design is not as flat as a skirt, but it tucks in and makes for a much more elegant look for classic style toilets.
One important thing to note is that some professionals may use the term "concealed trapway" interchangeably with skirted toilets. However, for the purpose of this article, we only use this term for Kohler's unique design to conceal the trapway without adding an apron.